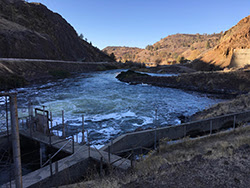 At Iron Gate Hatchery in Hornbrook, the fall 2018 spawning operation has just concluded. Iron Gate spawns both Fall-Run Chinook Salmon and Coho Salmon from the Klamath River. For Chinook, the hatchery staff manually collect the eggs and mix it with the milt immediately after the fish come into the facility. CDFW environmental scientists also collect heads from adipose fin clipped salmon, in order to retrieve implanted tags in the snout. The retrieved tags tell the biologists which hatchery the fish is from, and when it was released. They also collect scales, which enable them to determine the age of the fish.
For Coho Salmon, the process is a little more involved. The Coho are measured and samples taken, but the samples are sent off to a National Oceanic and Atmospheric Administration (NOAA) laboratory in Santa Cruz for analysis. While the samples are processing, the fish are kept in individually-numbered holding tubes at the hatchery. They will be spawned after the tissue analysis determines which fish are the best genetic match.
CDFW Photos

Watch a short video showing the spawning process for both Fall-Run Chinook and Coho.
For more information about Iron Gate Hatchery, please visit: www.wildlife.ca.gov/Fishing/Hatcheries/Iron-Gate.